---
Turn That Down: iZotope RX Loudness Control by Al Caudullo
---
About the Author: As a passionate Filmmaker & 3D advocate, Al Caudullo has dedicated his 30 plus years of experience to explore the horizons of technology for media creation. Al has impacted the professional community with his achievements in the fields of Education, Filmmaking, Broadcast TV, Documentaries and the Web. Clients include Panasonic, Samsung, Sony, Hitachi, LG, Grass Valley, NVidia, 3DOo and many others. www.3dguy.tv
It's happened to all of us. We're sitting there enjoying our favorite TV program when it comes time for the commercials. I'm not that I can count how many times that I've sailed across the room to snatch the remote to turn down an ear numbing appeal to buy the latest whiz bang, new and improved whatchamacallit!
Or you are watching one program at a comfortable level, as the new program begins, it so low you are tempted to run to the audiologist to get fitted for a hearing aid.
Audio levels for both TV and Radio have long suffered from this affliction. There have been standards set known as the CALM Act or Commercial Advertisement Loudness Mitigation Act since 2010, but soon, all broadcast will have to adhere to them without exception. ITU-R BS.1770 was created to govern the appropriate loudness levels for broadcast. Make no mistake, if your production is not in compliance with the standard, then it can't air and you have a big problem.
You say you are a responsible editor.
You have meters and you always make sure the levels are accurate.
The problem lies not with your diligence, but with your built in meters. The sad truth is that the VU meters on your NLE just aren't built to do the job properly. Peak Meters are a little better but not enough. Why, because they don't measure the sound in the same way that your human ears perceive sound.
You could have two sections of audio, adjust them utilizing only the meters on your NLE. Keep your speakers muted until you see that, according to your trusty level meters, they are perfectly matched. Now, turn your speakers back up and there is an excellent chance that your meters don't come close to your ear's perception of the sound.
So this all-important audio tool should be easy to get to and adjust.
I went in search on three different NLE softwares, Sony Vegas Pro 13, Grass Valley Edius 7.5 and Adobe Premiere Pro CC.
All three have the tools, but only Grass Valley Edius 7.5 had it in an easy to find location.
Sony Vegas Pro 13 calls it Loudness Meter and it took a search of the user guide to find it.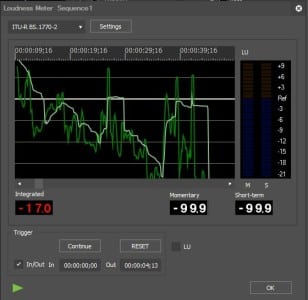 Adobe Premiere Pro CC has a very impressive Loudness Radar that is visually stunning but I'll get back you on using it in a few years after I finish my audio engineering degree.
The simple fact is, no one has a simple easy to use tool that will get the job done.
Until now.
Leave it to iZotope to make it so simple, we can look at the solution now and query, why don't they all do this?
Right now the plug in is available for Pro Tools 10-12, Media Composer 7.0.4 and 8.3.1 and Premiere Pro CC.
Here is how it works in Premiere Pro CC.
This is my timeline for my short, "3DR Iris+ Magic Flight". It was shot for Cocorilla Coconuts.
Click "File", then "Export Media".
In the Export Settings, choose iZotope RX Loudness Control.
Next, choose the preset that you need for your area of broadcast.
There are a plethora of choices if you so desire, but at this point you can take the easy route and still be assured of perfect results.
At the bottom right of the window select "Import into project".

The "Export" button will activate the process and after corrections are analyzed and implemented, the resultant .wav file will appear in your Project list.
Simply take the file and insert it in place of the old audio on the sequence timeline and output your final master knowing that the audio is in full compliance with The CALM Act.
Really, the whole procedure left me feeling calm…
If you too want to experience this calm first hand, iZotope offers a 10 day trial. Seems short, but if you try it once you will not want to be without this invaluable tool.
---